Vivo recently showcased their latest Funtouch OS 10 with various improvements. The latest custom skin gets few tweaks & improvements over Funtouch OS 9. Also, the release date is already out for a few Vivo smartphones. Vivo said they will release the update in three phases. So, let's discuss various features of Funtouch OS 10, list of phones which will get this update and the release date because very soon we can expect Vivo's latest custom skin in the Indian market too.
Vivo Android 10 Update Tracker
August 20: Funtouch OS 10 based Android 10 update for the Vivo S1, S1 Pro, V11 Pro, V15, V15 Pro and Z1 Pro is still under greyscale testing. So, you have to wait for a few weeks.
July 31: Vivo Z1X Android 10 update (size is 3.33 GB) is now rolling out widely via OTA with version is 6.8.30.
July 28: Android 10 stable update is now hitting Vivo X30 Pro, Vivo Z5 and Vivo Z5x units.
July 13: The stable update (around 2.15 GB) for the Vivo Y17 is rolling out in Indonesia with 1.62.0 software version.
July 9: Vivo has started pushing out Funtouch OS 10 beta to Vivo S1 Pro (India) device. However, according to Vivo India support, the update is currently under the greyscale test so you have to wait for some time to get the notification automatically in your handset.
June 29: Vivo S1 Pro (China) device owners are now getting Android 10 stable update that comes with version PD1832_E_6.12.2. Additionally, Android 10 (FuntouchOS 10) beta update with version v6.9.17 (3.45 GB in size) is rolling out to Vivo S1 units in China.
June 27: Vivo is now rolling out the latest Android 10 update via OTA to the Vivo V17 Pro device in batches.
June 24: Stable Android 10 update with version number V6.10.2 for Vivo S5 smartphone is now out. Talking about the update size, it weighs in around 3.8GB in size. Also, Vivo Z3x users (Beta Testers) in china are getting Android 10 Funtouch OS 10 beta update with version number V8.8.7.
June 12: Vivo Z1X units in India are started getting stable Android 10 (Funtouch OS 10) update. The build version of the update is v6.8.15 and it weighs 3.32 GB in size. Vivo India says the update is currently under the testing mode. So, you have to wait for some time to get the notification automatically in your Vivo Z1X handset.
June 6: Select Vivo Z1 Pro users are started getting Android 10 beta with version Vivo rev 6.9.11 (weighs around 3.1GB).
May 29: Vivo is rolling out its Android 10 (Funtouch OS 10) beta to Vivo S1 Pro(China), Vivo Z5X, Vivo Z5 and Vivo Z5i devices.
May 18: Vivo X30 Pro users are getting Android 10 based Funtouch OS 10 beta update. The update comes with version number PD1938B_A_1.17.15 and is currently rolling out in China.
May 8: Vivo V17 device users are receiving Android 10 based Funtouch OS 10 update with version 6.10.4. The company has also confirmed via twitter that Android 10 upgrade has been released in Vivo V17. However, owners of Vivo V17 Pro will have to wait for a few weeks to get the update.
April 30: According to Vivo India support, the company has not planned Android 10 update yet for Vivo Z1 Pro, Vivo S1 and Vivo V11 Pro devices. As of now, they are much stable with the current Android version.
April 15: Vivo has pushed out stable Android 10 update to Vivo Nex 3 5G (V1924A). The update comes with software version 6.10.1 which also include the March 2020 security patch level. Vivo NEX users who didn't participate for the beta program have also started getting the latest OS update.
March 31: The Android 10 beta update (for early adopters only) has started rolling for the Vivo S5, NEX A, NEX S and NEX Dual Display.
March 18: Vivo X27 users (who signed up for the public beta) are started getting Android 10 beta update with software version number PD1829_A_1.15.0.
March 13: Vivo Nex 3 and Nex 3 5G users who have enrolled themselves in the beta recruitment are started getting Android 10 beta update with versions PD1924_A_1.13.10 and PD1923_A_1.13.10 respectively.
List of Supported Vivo Phones for Funtouch OS 10/ Android 10
Vivo NEX 3 5G
Vivo X27
Vivo X27 Pro
Vivo X27 8GB + 128GB
Vivo NEX
Vivo NEX Dual Display
Vivo Z5x
Vivo S1
Vivo S1 Pro
Vivo X21s
Vivo X23
Vivo X23 Symphony Edition
Vivo Z3i
Vivo Z3
Vivo Z3i Standard Edition
Last month, Vivo confirmed through its Weibo account that Funtouch OS 10 rollout will be delayed due to Coronavirus Outbreak. Vivo initially planned to begin beta tests in February 2020 but due to the impact of the epidemic rollout plan was delayed. But now, the company has released a revised roadmap for the Chinese market.
They are releasing Funtouch OS 10 based Android 10 update in phases. Vivo NEX 3 and NEX 3 5G 4,000 early adopters(through registration only) will receive the first public beta update to Android 10 on March 14, 2020. In late March, X27, X27 Pro, X27 8GB + 128GB users will get the update followed by more NEX device users in early April which includes NEX flagship, NEX, NEX under-screen fingerprint version, NEX dual-screen version users. Owners of Vivo S5 will receive the update in mid-April 2020. For Vivo Z5, Z5i, Z5x, S1, and S1 Pro, Android 10 update rollout will begin in late June 2020. Vivo Z3, Z3i, Z3i Standard Edition, X21s, X23 along with its Symphony Edition are included in the last batch. They will also receive the update in June 2020.
Funtouch OS 10 Best Features
The latest custom OS 10 brings in a new minimalistic design approach with light-colour palate throughout the OS. Also, they redesigned in-build apps and included news system dynamics. The main highlighted points of this update are Performance Improvements, Quick Sharing Feature, JOVI Smart Voice Assistance, Animated Lock Screen and Live Wallpapers. So let's see point by point what is actually changed:
Performance
Funtouch OS 10 trying to improve or smoothen the user experience by taking a minimalistic approach. Because of this minimalistic approach, this latest OS runs faster compared to the previous version. Digital Wellbeing and Parental control option are included and it's mandatory for running any device in OS 10 which is a feature borrowed from Android 10. In terms of security, the latest OS improves greatly compared to Funtouch OS 9. But still, Vivo is using iOS inspired icons in their latest custom skin.
Screen Synchronisation Option
This is the newest feature included in Funtouch OS 10 which was not present on the earlier version of Vivo's OS. So Vivo talked about this feature very much. Vivo named the screen Synchronisation option as Quick Sharing Feature. Using this feature a user can share his or her mobile screen with other Vivo devices to watch videos or play games. It is also capable of sharing live games, videos and movies with your friends with Vivo phones.
Revamped JOVI Voice Functionality
Vivo hasn't changed the overall JOVI Smart Voice functionality it's still doing what it was programmed to do earlier. But they revamped the JOVI Smart Voice for better user experience and better security.
Animated Lock Screen
This is a new design feature included in OS 10. Now users can set up Animated Lock Screen wallpaper that is using Vivo's latest custom UI.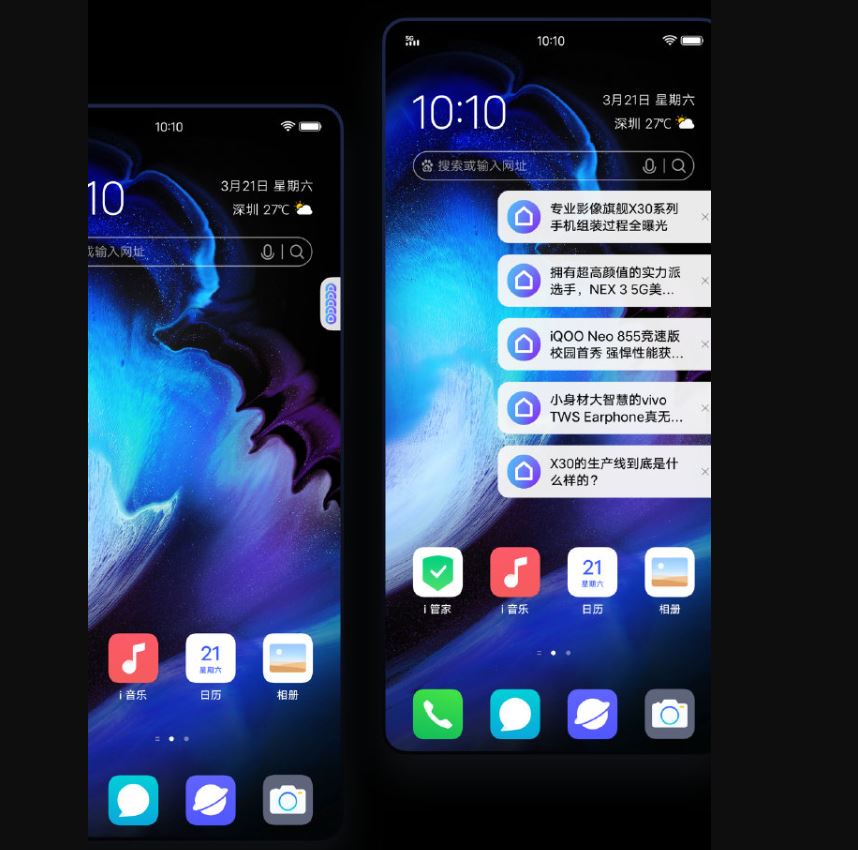 Live Wallpapers
This is another visual improvement in Funtouch OS 10. Now Vivo's latest UI users will be able to use movable wallpaper in their device home screen.