AMD's next iteration of FidelityFX Super Resolution, FSR 3, upscaling technology promises to be just as revolutionary as its predecessors. FSR 3 brings frame generation and other major improvements over FSR 2. FSR 3 is said to compete well with NVIDIA's DLSS 3.5.
You are in the right place if you have a graphics card or are an avid gamer wondering if the new FSR 3 will come to your favorite game or GPU. Here, we will discuss the improvements made with FSR 3 and the GPUs and games supporting FSR 3. So, without any further ado, let's begin.
FSR 3: What's New?
FSR 3 brings a new feature: frame generation. Unlike its predecessor, FSR 2, FSR 3's exceptional framerates for supported games result from a unique combination of high-resolution temporal upscaling and frame generation technology.
FSR 3 uses an improved version of AMD's Fluid Motion Frames (AFMF) optical flow technology and motion vectors to generate additional high-quality frames. This feature shines brightest in resource-intensive environments, such as 4K ultra-high-definition (UHD) ray-tracing gaming or CPU-intensive applications. To give you a better idea, FSR 3 gives you 2x better performance than FSR 2.
Another great thing about FSR 3 is that it is integrated directly into the game UI, making it even more efficient. Frame generation is now completely independent of the user interface.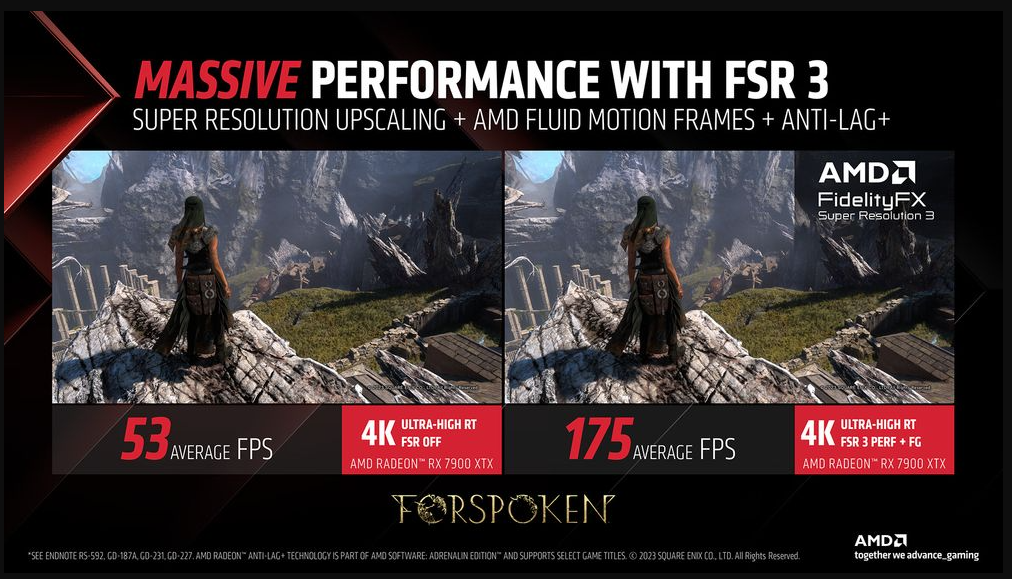 FSR 3 also improves upon FSR 2's interaction with the new frame generation technology by keeping the latter's temporal upscaling technique. For those players who insist on seeing every detail, they've added a new "Native AA" quality mode that improves the picture without upscaling.
AMD's Scott Herkelman stated at Gamescom that numerous titles are currently being put through the FSR 3 beta testing process. Games using DirectX 11 or DirectX 12 should be able to take advantage of the technology since it should interact smoothly with those versions of the API.
The good news for the quick integration of FSR 3 into a wide variety of gaming experiences is that AMD has been working with game developers and Unreal Engine to establish an FSR engine plugin.
Like FSR 2.0 and 1.0 before it, FSR 3 is open source and freely available to developers, giving gamers confidence in its rapid adoption. It is anticipated that FSR 3 will be released in the early fall, probably around September 2023.
List of GPUs That Will Support FSR 3
Another great thing about FSR 3 is that it will be available on many GPUs. FSR 3 will be supported on compatible AMD GPUs, including the Radeon RX 5700 series; however, the Radeon RX 6000 / RX 7000 series models are recommended for optimal performance. Here is a complete list of AMD GPUs that will support FSR 3:
AMD Radeon RX 7000 Series
AMD Radeon RX 7900 XTX
AMD Radeon RX 7900 XT
AMD Radeon RX 7800 XT
AMD Radeon RX 7700 XT
AMD Radeon RX 7600
AMD Radeon RX 6000 Series
AMD Radeon RX 6950 XT
AMD Radeon RX 6900 XT
AMD Radeon RX 6800 XT
AMD Radeon RX 6800
AMD Radeon RX 6750 XT
AMD Radeon RX 6700 XT
AMD Radeon RX 6700 10 GB
AMD Radeon RX 6650 XT
AMD Radeon RX 6600 XT
AMD Radeon RX 6600
AMD Radeon RX 6500 XT
AMD Radeon RX 6400
AMD Radeon RX 5000 Series
AMD Radeon RX 5700 XT
AMD Radeon RX 5700
As for the NVIDIA GPUs, all RTX 20, 30, and 40 series will support FSR 3. However, an RTX 20 series and above GPU is recommended. Here is a complete list of NVIDIA GPUs that will support FSR 3:
NVIDIA RTX 40 Series
NVIDIA GeForce RTX 4090
NVIDIA GeForce RTX 4080
NVIDIA GeForce RTX 4070 Ti
NVIDIA GeForce RTX 4070
NVIDIA GeForce RTX 4060 Ti
NVIDIA GeForce RTX 4060
NVIDIA RTX 30 Series
NVIDIA GeForce RTX 3090 Ti
NVIDIA GeForce RTX 3090
NVIDIA GeForce RTX 3080 Ti
NVIDIA GeForce RTX 3080
NVIDIA GeForce RTX 3070 Ti
NVIDIA GeForce RTX 3070
NVIDIA GeForce RTX 3060 Ti
NVIDIA GeForce RTX 3060
NVIDIA GeForce RTX 3050
NVIDIA RTX 20 Series
NVIDIA GeForce RTX 2080 Ti
NVIDIA GeForce RTX 2080 Super
NVIDIA GeForce RTX 2080
NVIDIA GeForce RTX 2070 Super
NVIDIA GeForce RTX 2070
NVIDIA GeForce RTX 2060 Super
NVIDIA GeForce RTX 2060
Moreover, the AMD Radeon RX 590 and the rest of the AMD Radeon RX 5000 series GPUs will support FSR 3 without the frame generation feature. The same is true for the NVIDIA GeForce GTX 10 series and above. Here is a complete list of AMD GPUs that will support FSR 3 without frame generation:
AMD Radeon RX 590
AMD Radeon RX 5300M
AMD Radeon RX 5300
AMD Radeon RX 5300 XT
AMD Radeon RX 5500M
AMD Radeon RX 5500
AMD Radeon RX 5500 XT
AMD Radeon RX 5600M
AMD Radeon RX 5600
AMD Radeon RX 5600 XT
AMD Radeon RX 5700M
Here is a complete list of NVIDIA GPUs that will support FSR 3 without frame generation:
NVIDIA GTX 10 Series
GeForce GTX 1050
GeForce GTX 1050 Ti
GeForce GTX 1060
GeForce GTX 1070
GeForce GTX 1070 Ti
GeForce GTX 1080
GeForce GTX 1080 Ti
NVIDIA GTX 16 Series
GeForce GTX 1630
GeForce GTX 1650
GeForce GTX 1650 Super
GeForce GTX 1660
GeForce GTX 1660 Super
GeForce GTX 1660 Ti
List of Games That Will Support FSR 3
There have been approximately 300 games that have used FSR since its introduction in 2021 and subsequent updates to FSR 2. And now we have FSR 3 to stretch the envelope further. AMD has reassured that all DirectX 11 or 12 games will support FSR 3.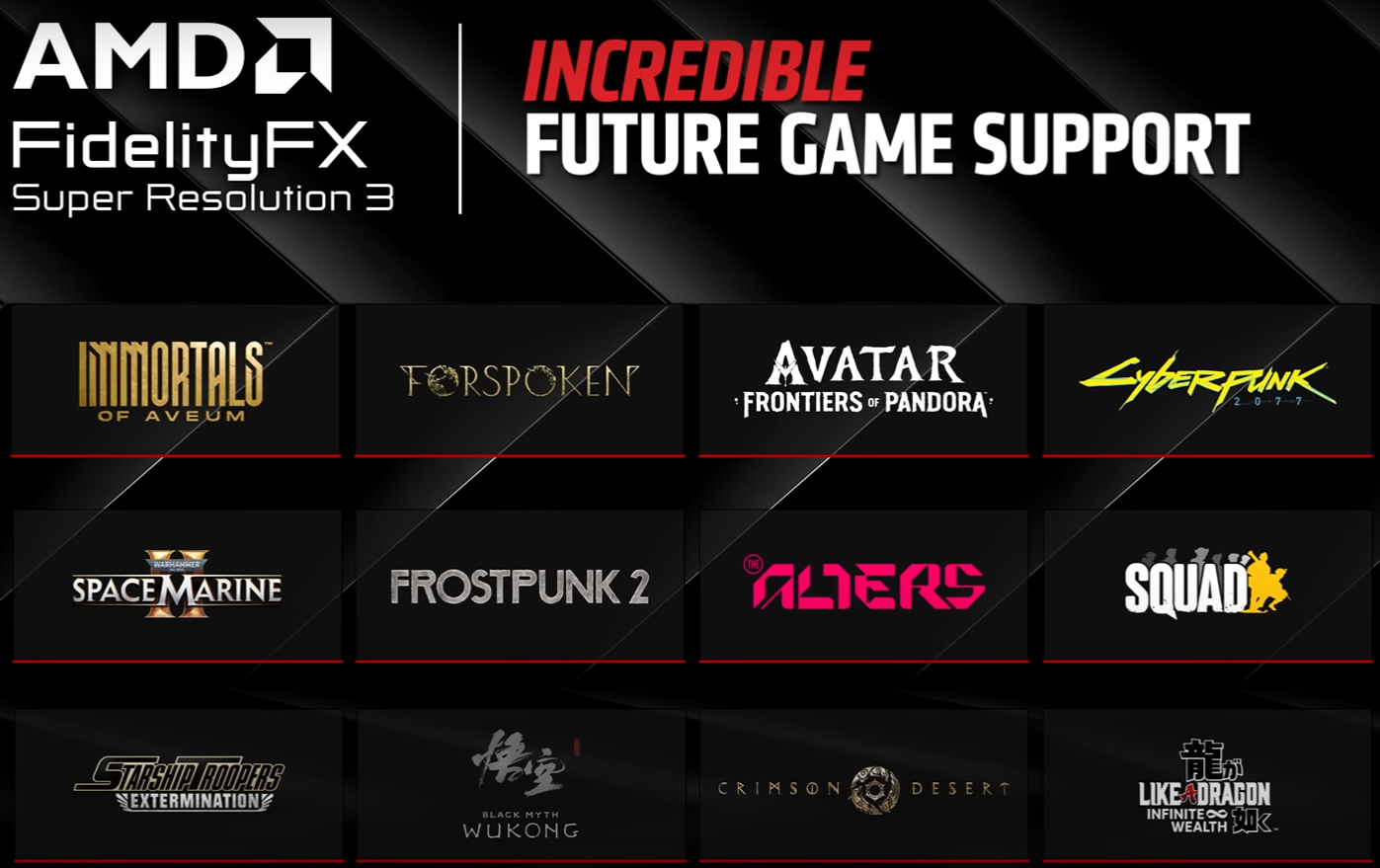 For now, 12 games have been announced to support FSR 3, with more to be coming in the future. Here is a list of all the games that are confirmed to support FSR 3:
Forspoken
Immortals of Aveum
Avatar: Frontiers of Pandora
Cyberpunk 2077
Space Marine
Frostpunk 2
The Alters
Squad
Starship Troopers: Extermination
Black Myth: Wukong
Crimson Desert
Like a Dragon: Infinite Wealth
Moreover, AMD is already collaborating with 15 game developers and publishers to bring FSR 3 to more games in the future. Are you excited for FSR 3? Is your favorite game on the list? Let us know in the comments section below.
Enable FSR 3 in Games
AMD has released its new FidelityFX Super Resolution 3 technology for Forspoken and Immortals of Aveum. Ten additional games are expected to receive support for FSR 3 soon.
Forspoken: In the Graphics settings, set Image Quality Presets to Custom to access FSR modes and frame generation.
Immortals of Aveum: In the Display settings, select the desired FSR mode and turn on frame generation.