Apple wrapped up the Far Out event yesterday, wherein they announced upgrades to three of their most popular products— the Apple Watch, AirPods Pro, and the iPhone. The iPhone 14 series includes four models— iPhone 14, iPhone 14 Plus, iPhone 14 Pro, and the iPhone 14 Pro Max.
The iPhone 14 Pro series got the new A16 Bionic chip, while the regular iPhone 14 and the iPhone 14 Plus still have the A15 Bionic. This makes us wonder how fast is the A16 Bionic when compared to its predecessor. Well, an early GeekBench listing suggests that the A16 Bionic is barely faster than the A15 Bionic.
The GeekBench test result of "iPhone 15,3," the code name for the iPhone 14 Pro, reveals that the new iPhone 14 Pro with A16 scores 1879 in single-core performance and 4664 in multi-core performance. These scores are undeniably impressive and so far ahead of the competition. However, the A15 also shares very similar scores, with 1709 in single-core performance and 4659 in multi-core performance.
The Geekbench listing also reveals Apple 16 Bionic's maximum CPU frequency as 3458MHz (3.46GHz), which is 228 MHz more than the A15 Bionic's maximum CPU frequency 3230MHz (3.23GHz). Talking about the memory, iPhone 14 Pro has 6GB of RAM.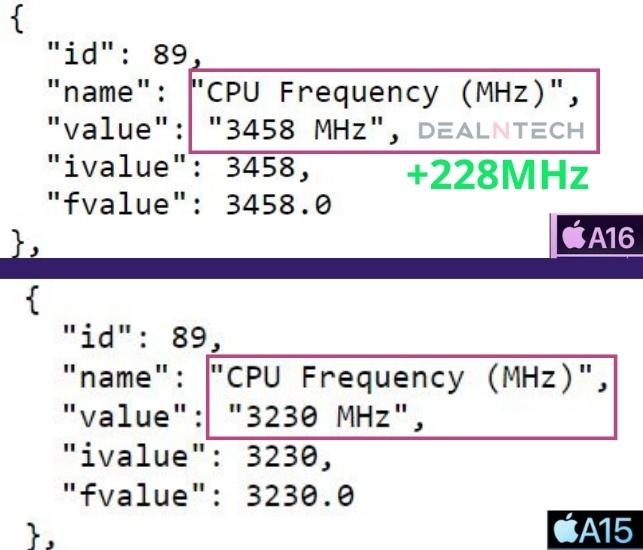 Despite the minor improvements over the last gen, Apple says the A16 Bionic is 'the fastest chip ever in a smartphone.' And don't forget that GeekBench is focused on the CPU performance of a chip, not the GPU. While the A16 Bionic has the same CPU as the A15 Bionic, the GPU with 50% more bandwidth is better on the A16 Bionic. Apple is not focusing on raw performance with the A16 Bionic but on efficiency and better camera capabilities.
While it may seem like Apple has reintroduced the A15 Bionic with a new name, it is not true. The A16 Bionic is more power-efficient than its predecessor, thanks to a smaller 4nm fabrication process. This means that the battery life on the iPhone 14 Pro and the iPhone 14 Pro Max will improve further. The A16 Bionic has more transistors, 50% more memory bandwidth, and a new ISP.